Jurassic World: Dominion Dominates Fandom Wikis - The Loop
Play Sound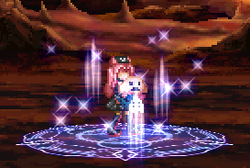 Arietta the Wild (妖獣のアリエッタ Youjuu no Arietta) is one of the Six God-Generals from Tales of the Abyss and is a cameo support character for ACS.
Arietta is a little girl raised by Ligers, and can consequently speak to them, after her parents died. She was adopted by Van Grants and was appointed as a Fon Master Guardian similar to that of Anise Tatlin. In battle, Arietta acts as support by casting numberous Dark-Elemental Fonic Artes (or "Spells").
Arietta can use one spell arte and one Mystic Arte in ACS as a support for Synch & Six God-Generals. Arietta can't be interrupted or hit by another character whlie casting her spell.
Support Artes (援技 - Hikuwaza)
[
]
User
Name
Command
Elemental Damage
Hits
Power
Requirements
Synch
Bloody Howling
ブラッディハウリング

↓ → ← C
Dark
10
46

Mystic Artes (秘奥義 - Hi Ougi)

[

]
User
Name
Command
Elemental Damage
Hits
Power
Requirements
Synch
Evil Light
イービルライト
→ ← → E
-
10
186