Jurassic World: Dominion Dominates Fandom Wikis - The Loop
Play Sound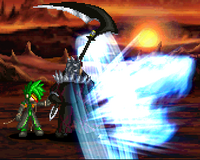 Largo the Black Lion (黒獅子ラルゴ Kurojishi Rarugo) is one of the Six God-Generals from Tales of the Abyss and is a cameo support character in ACS.
Largo is the leader of the shock troops of the Oracle Knights. Losing his daughter and wife as predicted by the Score, he desires a world where the Score is inexistent, an ideal world which Van Grants is trying to achieve. With his great power and determination, he wields a giant scythe that tears the enemies apart without much but brute force. Although slow, he posses immense strength enabling him to knockback opponents with most of his attacks.
Largo can use three (3) artes and one (1) Mystic Arte as a support for Synch & Six God-Generals.
Support Artes (援技 - Hikuwaza)
[
]
User
Name
Command
Elemental Damage
Hits
Power
Requirements and Notes
Synch
Shishisenkou
獅子戦吼
(Beast)
→ ← → B
-
2
30

-

Synch
Shikou Bakuenjin
獅吼爆炎陣
(Fiery Beast)
→ ← → B
Fire
2
43
Synch
Enga Bakusaikou
炎牙爆砕吼
(Savage Flame)
→ ↓ ← B
Fire
8
(At most)
4
(Per hit)
Mystic Artes (秘奥義 - Hi Ougi)
[
]
User
Name
Command
Elemental Damage
Hits
Power
Requirements and Notes
Synch
Guren Senshouran
紅蓮旋衝嵐
(Brimstone Tempest)
↓ ← → E
-
17
142